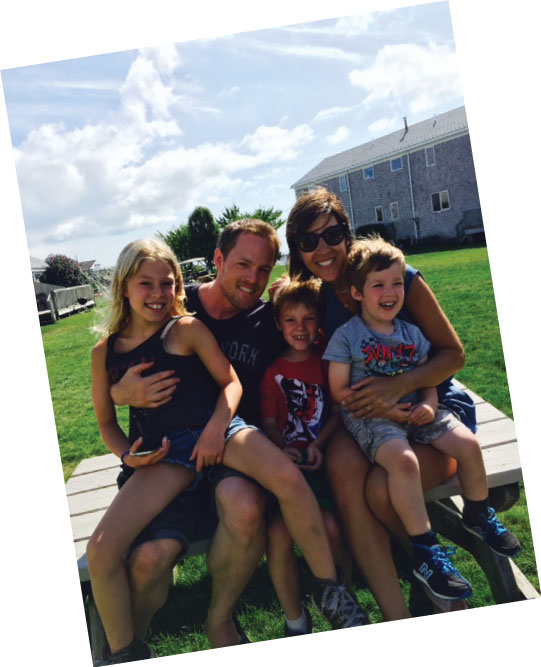 OUR FOUNDERS
Buck & Rebecca
We are just like you, parents looking for any way to better our children and simplify our lives.
So after finding ourselves frustrated with the excessive gift giving at our childrens' birthday parties, with more toys than they could ever need, we started to become concerned that the real importance of the day — the celebration — was starting to get overshadowed by the material aspect. And so our 4th "child", Share Your Wish, was born!
Buck Schleifer, Co-Founder, Managing Member
Buck is one half of the founding team of Share Your Wish, which also includes his wife, Rebecca. He is a dedicated father to his three beautiful children, "A" (born Jan., 2008), "E" (born Oct., 2009) and "D" (born July 2013). Buck currently has a full-time career as a proprietary trader for a hedge fund in Westchester, NY, but spends a lot of his free time pursuing his passion, which is Share Your Wish.
Buck comes from humble beginnings, growing up in Bronx, NY. While he may not have had everything, he had enough to be happy. And that mostly had to do with the love that was shared in his family. He worked very hard to excel in school, gaining acceptance to the prestigious Bronx High School of Science, followed by a 4-year Dean's scholarship to Pace University, and finally earning his MBA from NYU Stern Business School. He has been fortunate to achieve success in his career, which ultimately means more financial freedom.
When asked what he is grateful for in his life, the thing that tops the list is that he and his wife are able to provide for their kids. Not only that, but he is able to support their interests, take family vacations, and put away some money for their college education. These are mostly things his parents weren't able to provide for him. But, not being the wiser, he never missed any of them.
This personal understanding that "things" do not create happiness is what drives Buck to fight the impulse to give his kids everything they want, and was the main catalyst for creating Share Your Wish
Rebecca Schleifer, Co-Founder, President
Rebecca makes up the other half of the founding team of Share Your Wish. Rebecca was a Special Education teacher for ten years. She left her position in 2008 to take on the most important role of all, motherhood. Raising three young children has been life changing, a little bit messy, and full of surprises. It has also been quite inspirational, as it was Rebecca's three young children that inspired the idea of Share Your Wish.
Rebecca attended University of Hartford where she received a degree in Special Education, and later earned a Masters Degree from Hunter College. Clearly she has a passion for education. Rebecca hopes to utilize her experience with young children and how to teach them effectively, by offering parents ways in which to teach their youngsters the virtues of being charitable.
Rebecca and her husband created Share Your Wish in hopes that families will begin teaching their young children about what is truly important in life. She believes that people must always come before things. She hopes to inspire families to celebrate their children's birthdays with presents that have special meaning, and create a way to make their child's day even more special by sharing with others. Rebecca's goal is to continue to "teach, share, and inspire" others.
Share Your Wish helps parents teach children the virtues of generosity and selflessness, while facilitating a more efficient gift exchange that benefits both gift giver and gift receiver. We empower kids and equip parents to simultaneously reduce excessive and frivolous gift giving, support a healthier planet, promote social responsibility, and practice good values while rewarding kids with better personalized gifts. We are proud to be a mission-driven social enterprise committed to supporting the needs of parents, of children, of those who have, of those in need of help, and of the world we share.
INTEGRITY, ABOVE ALL ELSE
By staying true to our mission and grounded in our core values we earn the trust of parents and children, our customers and communities.
TEACH SOCIAL RESPONSIBILITY
When children practice charity they learn compassion, empathy, self-esteem, pride, generosity, empowerment and in turn become better stewards of the world.
HELP YOURSELF BY HELPING OTHERS FIRST
Charitable acts prove that considering the needs of others first can lead to a better outcome for everyone, including yourself.
OPEN COMMUNICATION
Encourage frequent and open exchange of ideas between parents, kids, employees and customers to breed innovation and better relationships.
Influence children towards a lifetime of social responsibility by teaching them to sow and reap the good fortune of a generous spirit, making the world a little better for everyone.